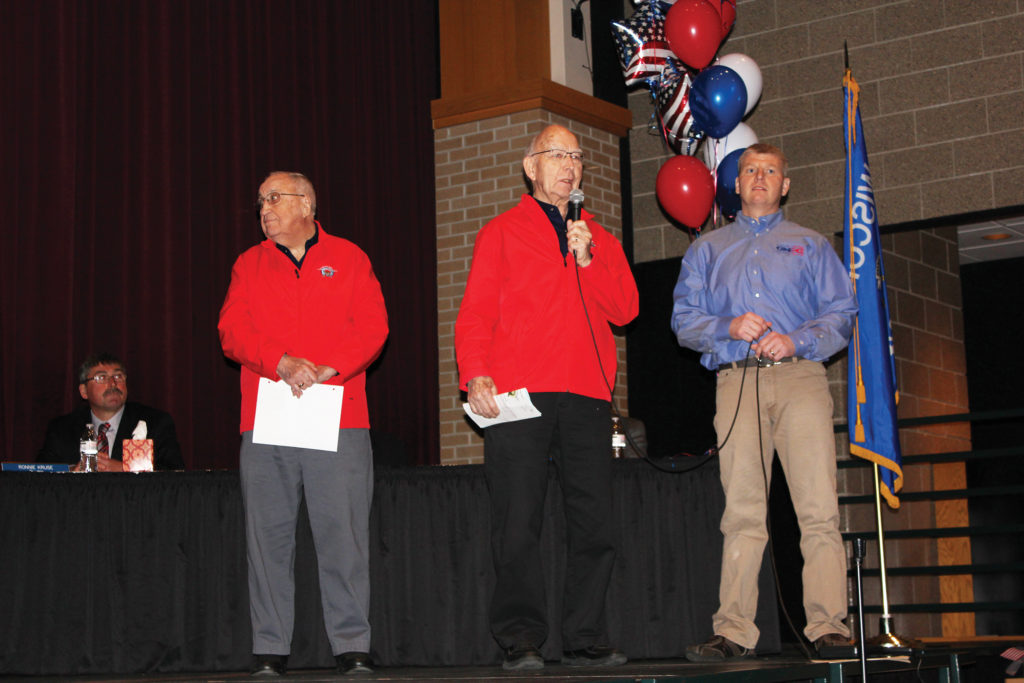 A patriotically themed program and abundant good news greeted Oconto Electric Cooperative members at their 80th annual meeting Saturday, March 25, in the Performing Arts Center at Oconto Falls High School.
They learned there will be no increase in rates or facilities charges and heard high expectations for a favorable new wholesale power contract when the current one with Wisconsin Public Service expires at the end of 2018.
Board chairman David Hischke saluted the co-op's 26 full-time employees — compared with 34 a decade ago and serving a similar number of members—who "stepped up to the plate and helped this co-op become more efficient."
Hischke said the decision to employ a two-man, in-house brushing crew has paid off in more work, done faster. CEO Byron Nolde affirmed that the new approach saves money.
Thirteen $2,500 scholarships were awarded to area high school seniors. The amount, financed through unclaimed capital credits, was increased from the previous $1,000. Earlier, Treasurer Dan Kanack reported the return of nearly $611,000 in capital credits during 2016, for a total of $14.9 million over the co-op's history.
The Community Change bill-rounding program financed 18 grants to assist local needs including a sheltered workshop in Gillett and area libraries. The OEC employee charity donated another $12,000, for a total of $68,000 to date. A 2017 OEC employee charity beneficiary will be the Old Glory Honor Flight, and two Korean War veterans spoke about their experiences on a prior flight.
The Oconto Falls High School Jazz Singers presented the national anthem and a musical tribute to veterans, while meeting attendees waved small American flags in their honor.
Attorney Howard Eslein announced that two incumbents were the sole board nominees in prior district meetings, and the membership ratified the reelections Doug Allen and Dan Kanack on voice votes with no opposition heard. Reorganization kept the lineup of board officers in place, with Hischke re-elected chairman; Allen, vice chairman; Todd Duame, secretary; and Kanack, treasurer.