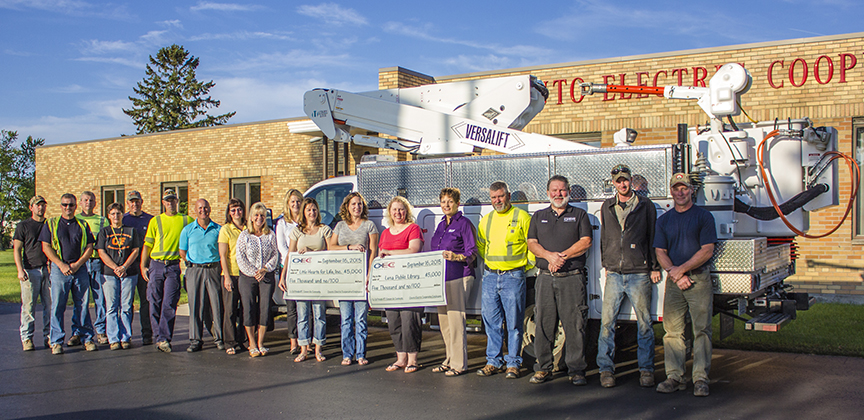 Oconto Falls, WI; September 16, 2015 – Oconto Electric Cooperative (OEC) employees distributed a total of $10,000 to two local charities. Lena Public Library and Little Hearts for Life, Inc. Each spring the OEC employees choose a charity to raise money for throughout the year. Money was raised by the employees through employee lunches, candy bar sale, bake sale, raffle, and an employee golf outing.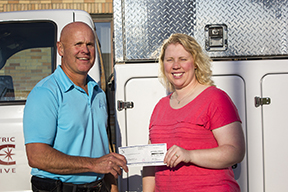 Lena Public Library was granted $5,000. The grant money will update their adult and child non-fiction section. The books will range from health, dieting, cookbooks, crafts, decorating, quilting, do-it-yourself projects, autobiographies, poetry and more.
Lena Public Library belongs to Outagamie Waupaca Library System (OWLSnet), a consortium of 49 public libraries in northeast Wisconsin. OWLSnet allows library patrons to borrow books, music and movies from other libraries if they are not available at their library. So not only will Lena benefit from the new books, but so will other neighboring libraries.
Little Hearts for Life, Inc. was granted $5,000. Little Hearts for Life, Inc. is a non-profit organization that was started in 2013 by Joel and Ginny O'Harrow of Oconto Falls. In 2009 the O'Harrow's fourth son Gannon was born at Children's Hospital of Wisconsin in Milwaukee with a Congenital Heart Defects (CHD). By the time Gannon was 5 months old he had already undergone three open-heart surgeries and at 14 months of age he received a heart transplant.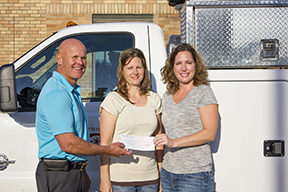 Little Hearts for Life, Inc.'s mission is to bring awareness to and educate the public about CHD, to fund ongoing research, and to ultimately help change lives of those living with congenital heart disease. The money will be given to Milwaukee Children's Hospital strictly for Chronic Heart Disease research. Little Hearts for Life, Inc. raised an additional $35,000 this year at their annual corn roast.
Since 2004, Oconto Electric Employee Charity has awarded $56,000 to charities and organizations such as Home Respite Care, Old Glory Honor Flight, Oconto Police K9 Unit, and local schools.