Oconto Falls, WI; October 26, 2017 – Oconto Electric Cooperative (OEC) employees were ecstatic to be giving back to the U.S. Veterans with a donation of $14,000. This is the greatest amount of money that OEC employees have raised since the program began in 2004. Donations were split between Old Glory Honor Flight and Patriot Guard Riders of Wisconsin.
OEC employees worked all year to raise $9,000. The largest events were the charity golf outing, a motorcycle ride, and the Bag Lunch To Go. CoBank, one of the co-op's lenders, also donated $5,000 as part of its Sharing Success program.
"In March, we held our popular Bag Lunch To Go. We delivered 330 bag lunches, one hundred more than the previous year to businesses in the community within two hours," explained Katie Jagiello, co-op employee. "People enjoyed the pulled pork sandwich and the fact that lunch is delivered to them at their workplace and that all proceeds go to charity."
Old Glory Honor Flight is dedicated to transporting our local WWII, Korean and Vietnam War veterans to Washington, D.C. to see the memorials built in their honor. It is a one day trip and completely free of charge to the vet!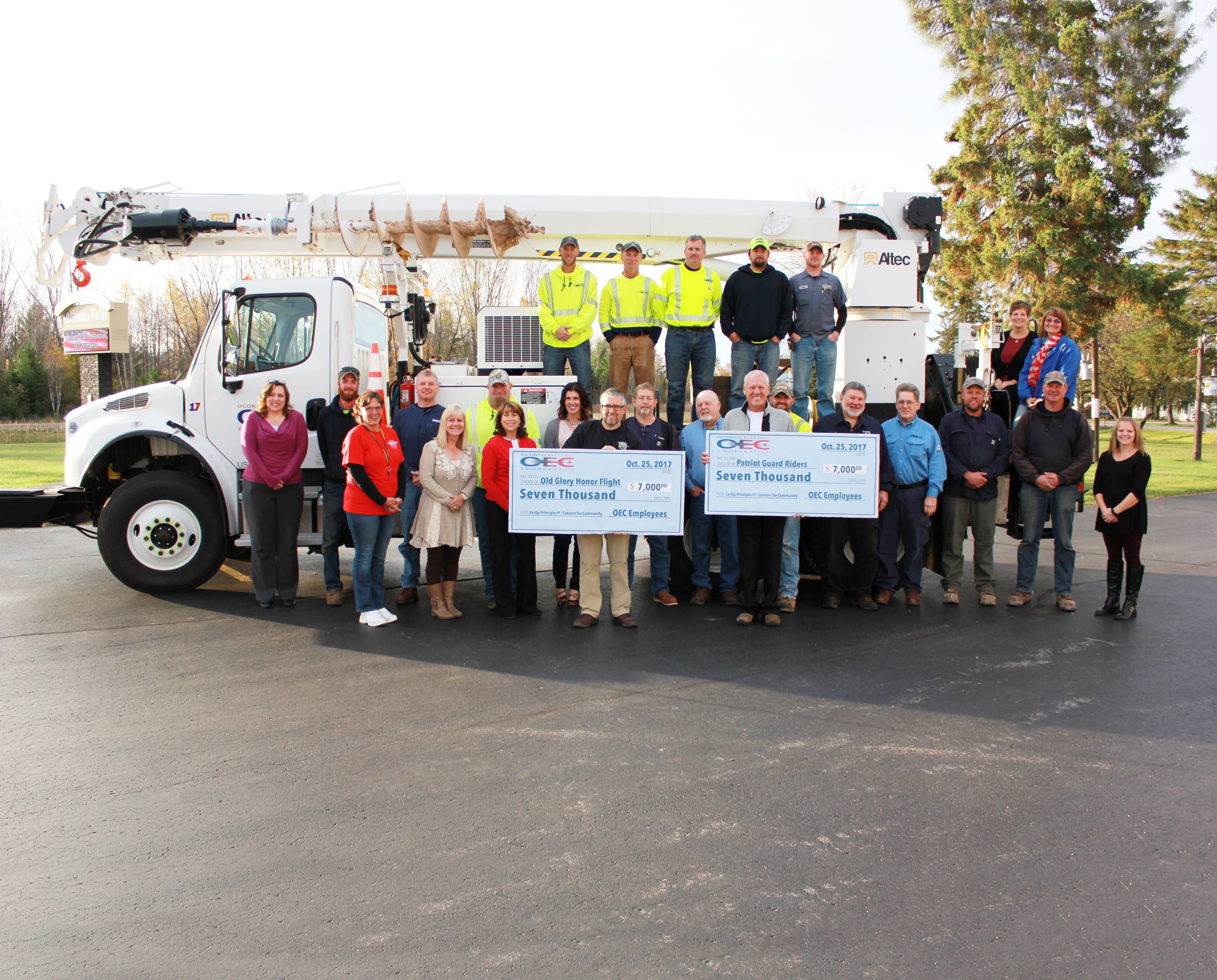 Old Glory Honor Flight is funded primarily from individuals across Northeast Wisconsin who recognizes the great accomplishments and sacrifices of veterans and wants them to have the chance to visit their nations capital.
The Patriot Guard Riders of Wisconsin is an all-volunteer organization that provides support for active military personnel and veterans and their families. Their main mission is to honor our fallen heroes, their families, and communities by attending memorial services and funerals. They also participate in ceremonies and events to welcome our troops home from overseas or to give them a resounding show of support when they leave the states for foreign countries. In 2016 they were able to bring some hope and Christmas cheer to 550 veterans and military families through their Operation Christmas Angel program. They are completely funded by donations and other than minor administrative expenses; all funds go directly to benefit those they serve.
Funds raised by OEC employees will go towards their Help on the Homefront Services. Under their Help On The Homefront program, they provide the essentials for veterans who have completed rehabilitation programs and are again contributing to society. Most often, veterans leaving the VA recovery programs leave with little more than the clothes on their backs. Patriot Guard Riders provide veterans with a bed, tables, chairs, TV, entertainment center, kitchenware, bed and bedding, all usually donated by individuals. When there is a lack of donated goods, Patriot Guard Riders will use monetary donations to purchase items for the veterans.
This is the thirteenth year that co-op employees have raised funds for designated charities. Including this donation, they have raised a total of $82,000. "I think it is pretty cool that a lot of money has been raised by our small co-op of 40 some employees/directors," said OEC employee Amy Winkler. The employees at OEC are grateful for the support that the community and OEC members give to the charity.
OEC employees are seeking grant applications for its annual Employee Charity program. The application period is open now until November 30, 2017. Funds will be dispersed late 2018/early 2019. Organizations that are classified as exempt from Federal income tax under section 501(c)(3) of the IRS code with a valid IRS Tax ID are eligible to apply for the grant.
Interested applicants can find the application at rkm.ca1.myftpupload.com or can pick it up at Oconto Electric Cooperative at 7479 REA Road, Oconto Falls, WI 54154.