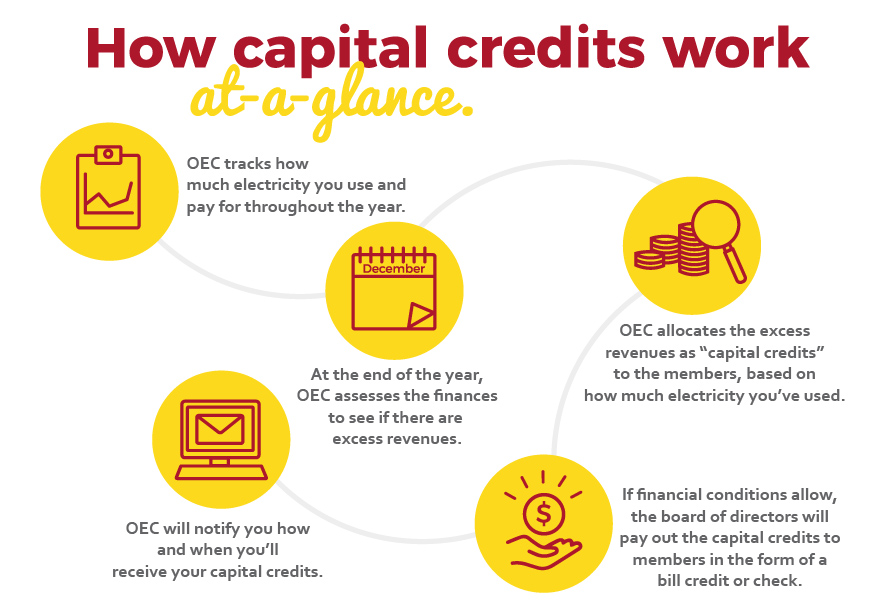 WHAT ARE CAPITAL CREDITS?
Capital credits are the retained margins left over at the end of the year at a not for profit electric cooperative. They are the most significant source of equity for most cooperatives. They are somewhat the same as the dividends that investor-owned utilities pay to their shareholders except that OEC "dividends" go back to the member/owners. Capital credits reflect each member's ownership in the cooperative. It is also called patronage capital or equity capital.
HOW DOES A MEMBER GET CAPITAL CREDITS?
When anyone becomes a member of Oconto Electric and begins purchasing electricity, they get two accounts – a billing account and a capital credit account. The capital credit account is specific to you and your spouse, if married. Regardless of how many times you move or how many billing accounts you may have, you have one capital credit account that stays with you. At the end of each year whatever margins OEC has are allocated back to the members. Your share is deposited in your capital credit account for that year.
HOW ARE YEAR-END MARGINS ALLOCATED?
OEC takes the margins at the end of the year and divides that dollar amount by the amount of total revenue collected during that year. This is the "allocation factor". The allocation factor is then multiplied by the amount of revenue you contributed during that year. This is your share of the margins – or your capital credit allocation – for that year.
WHEN DO I GET MY CAPITAL CREDITS?
Even though the cooperative allocates capital credits to members each year, the money is not paid out right away. The money is used for a number of years for the following purposes:
to increase equity giving the cooperative more borrowing power
to avoid borrowing money as much as possible
to have reserves in case of an emergency
The board of directors looks at OEC's financial condition annually and then decides whether to retire capital credits. It is goal of the board to keep capital credit retirements on a 20-year rotation, always retiring the oldest year.
HOW DO I GET MY CAPITAL CREDITS?
If the amount of your retirement in a given year is more than $25, a check will be sent to the last valid address we have on file. If the amount is less than $25 and you still purchase electricity from OEC, it will appear as a credit on your electric bill. If the amount is less $25 and you no longer purchase power from OEC, the amount goes into "no check status" which means the computer will hold that money until there is enough retired so that it is more than $25. When the amount is more than $25 a check will be sent to the last valid address.
HOW MUCH HAS OCONTO ELECTRIC PAID IN TOTAL CAPITAL CREDITS REFUNDS SINCE IT BEGAN IN 1937?
Over thirteen million dollars.
WHAT IF I NO LONGER HAVE ELECTRIC SERVICE WITH OEC?
If you move or no longer have electric service with Oconto Electric, it is important that you keep your address current so that future disbursements can be properly mailed to you. Capital credits are reserved for members even if they move out of the Oconto Electric service area. OEC will make a diligent effort to send a check by mail.
WHAT IS A MEMBER?
Any individual or entity that purchases electricity from Oconto Electric Cooperative. Members are entitled to participate in cooperative elections and to share in patronage capital allocations.
ARE CAPITAL CREDITS PAID OUT IN ANY WAY BESIDES A NORMAL RETIREMENT?
There are certain conditions which allow capital credits to be paid out early but at their net present value. A person would not receive the money at full value because it is being retired much earlier than normal.
Currently, the conditions for paying out capital credits at the net present value include:
An estate payout to spouses or heirs of a deceased member.
For purchase of an electric water heater that will be part of OEC's load management program.
For purchase and installation of an electric heating system that qualifies for OEC's dual fuel rate.
Farm efficiency improvements.
Business and commercial electrical improvements that will help reduce OEC's coincident demand.