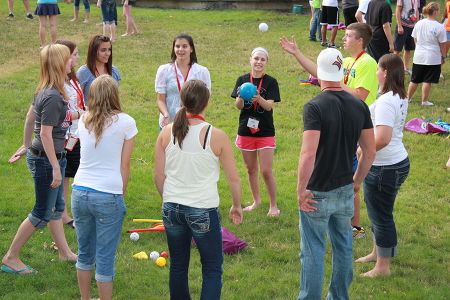 Each year in July the Youth Leadership Congress (YLC) is held at the University of Wisconsin-River Falls campus. The University of Wisconsin-River Falls, Outreach and Graduate Studies Office is pleased to co-sponsor this program with the Wisconsin Electric Cooperative Association (WECA), a division of the Wisconsin Federation of Cooperatives (WFC). Attendees join other students from across the state to participate in this premier youth program.
The congress has a range of leadership, team building, learning, and recreational activities. The Cooperative Youth Board assists in planning and presenting the YLC program. This makes the YLC a unique and effective opportunity for young adults to have fun while learning.
Students stay in the campus dorms during this 3 day/2 night event. There is entertainment in the evenings, students are busy from early morning until late evening throughout the event.
Oconto Electric Cooperative selects four high school students each year who will attend YLC. OEC pays for registration, provides transportation to and from the congress and has chaperones on campus at all times.
For more information email kjagiello@ocontoelectric.com